What makes it the city a hotspot for all?
It's most people's dream to visit historically-enriched cities like Rome at some point in their lives. The sacred arts, the romantic architecture, the tasty cuisines, the rich culture, and even the cobblestone paths make the city undeniably beautiful. The many charms of Rome make the city a destination for families, couples, friends, and even the lone traveler. Despite the economic recession, the Italian capital continues to be a popular destination. EBTL (Ente Bilaterale del Turismo nel Lazio) released statistics last year claiming that in 2012, Rome saw twelve million tourists, with a whopping 70% of them coming from outside of Europe. If it wasn't the Trevi Fountain or the Sistine Chapel that drew them to Rome, was it was the temptation of authentic Italian food?
Italy on the whole is an adventure for all of the sense. It's especially exciting for the taste buds as the country does boast a delectable cuisine. It's not just pizza and pasta that are the cornerstones of Italian cuisine (although the range of pasta is quite impressive). When it comes to food, the Italians really know what they're doing. Antipasti, which literally means before the meal, typically includes a selection of cured meats, cheeses, olives, peppers, bread or sometimes bruschetta – and it's pretty much a staple of many Italian meals.
Antipasti platters have gained popularity in various cultures and countries as people desire to eat "the Italian way." It's one of the best italian platter ideas for those who love to explore something new. Perfect for starting a dinner party, an antipasti platter is guaranteed to be a hit. You can get creative and make your own personalized platter, or you can opt for a pre-made one. Either way, it promises to be a delicious and memorable introduction to any Italian-themed dinner.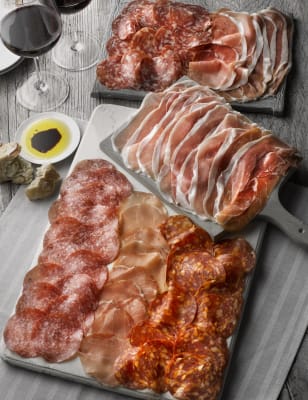 The Antipasti Platter with Parma ham, Milano salami, Napoli salami, Calabrian salami and lombo (Image courtesy of Marks and Spencer).
Every component of the antipasti plays an integral role to the dish itself. The flavors, colors and textures are selected to complement each other and the courses that follow. But antipasti has its symbolic appeal as well. Platters are usually reserved for family reunions and other special occasions, thus representing a social gathering of loved ones. Other cultures are inspired by the Italians as theirs is not only a culture of food, but also one that is heavily focused on family.
Even the allure of antipasti makes Rome a city worth traveling to.